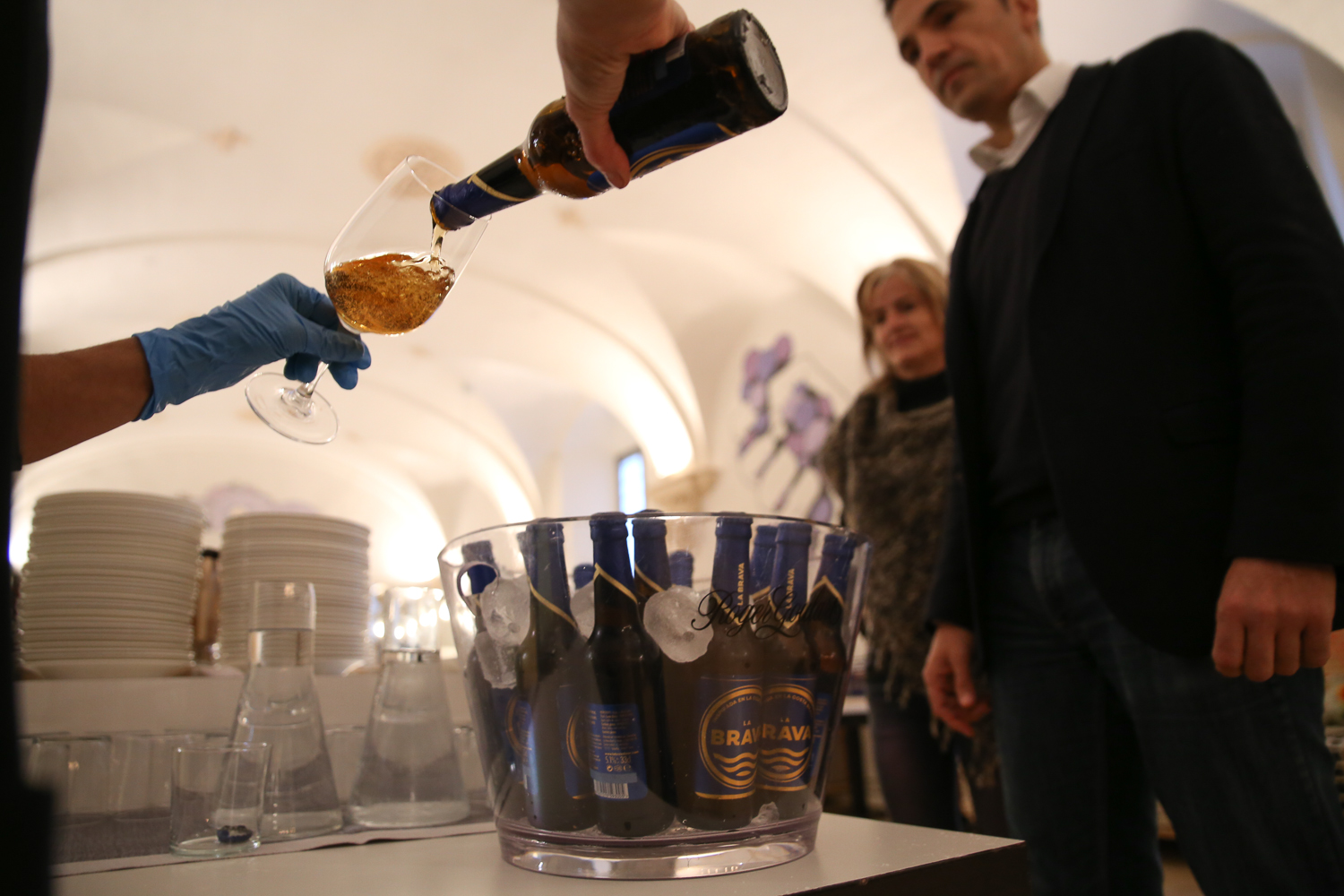 18 Dec

La Brava Makes Its Debut at Home and in the Best Company

On December 16th, La Brava held a special event in Sant Feliu de Guíxols (Gerona) to mark its official debut. Shareholders, collaborators, friends, the local authorities and the media welcomed the arrival of the beer inspired by the Costa Brava. The occasion was celebrated a stone's throw from where it all began and where the passion for beer shared by a group of friends was transformed into a business initiative which now unites over 50 small shareholders and collaborators.

"We all come from very different sectors, which gives us a freshness other companies don't have," stated Marketing Director and founding partner Jaume Pagès.

Imminent Expansion and Second Round of Crowdfunding

"Our first objective is to position the brand in the province of Gerona, although our intention is not to stay here, but to take our recipes wherever they are wanted," added Executive Director Sergi Carmona before explaining the modest beginnings of a project "created with individual resources, developed through crowdfunding." He also stated that a second round of fundraising may be initiated in the coming months in order to continue the organic and fluid development of the business plan.

As part of this vision, Technological Director Paco Sánchez Ropero presented some of the differentiating assets which make La Brava a "2.0 beer".
A Unique Recipe for All

Product Manager and the brains behind the La Brava recipe, Cesc Aliart, then presented the characteristics of "a beer brewed in such a way that everyone can understand it." He proudly explains that it is elaborated using traditional methods in a Czech brewery, where the know-how of over 150 years is combined with the originality of "a recipe adapted to local tastes and using local ingredients."
La Brava is a small company with a grand mission: to produce a quality beer with high consumption. "At present, our resources won't stretch to having our own brewery, but our business plan includes the creation of our own brewery in Gerona. It is our greatest goal and we hope to achieve it within 5 years," assures Aliart.
The event took place in the incomparable setting of the Sant Feliu de Guíxols History Museum and culminated in a beer-tasting session and three-course meal. Those present not only experienced the delights of drinking La Brava beer first-hand, but also enjoyed the dishes specially prepared by El Ginjoler using La Brava beer: flame-grilled aubergine and smoked sardines with La Brava jelly followed by carbonade flamande beef stew, cooked with La Brava beer.
(Translation by Sarah Marshall)